Find My iPhone/iPod
Ever misplaced your iPod or iPhone and couldn't figure out where it was? Well you wont have to worry about that anymore, not with the app developed by Apple themselves called "Find my iPhone."
Find My iPhone is free for anyone with an iPhone 4, iPad, or 4th generation iPod touch (iOS 4.2 or later required).* Just sign in with your Apple ID on your qualifying device and turn on Find My iPhone to allow you to locate it. Then use the same Apple ID to turn on Find My iPhone on your other iOS 4.2 (or later) devices including iPhone 3G, 3GS, or iPod touch (2nd generation or later). Find My iPhone is also included with a MobileMe subscription.
They say you need another device on iOS 4.2 (or later) to locate your device but all you really need is an internet connection and a browser to log on to their website and locate your phone. I have a little sister who constantly puts the iPod in random places, like in between the couch or in her play area – but with this app, we no longer need to worry as we would be able to locate it anytime, anywhere – as long as there is a WiFi connection. For those of you who have an iPhone or iPad, you might already be on a data plan so that shouldn't be a problem.
If you would like to download this app, links are available at the bottom.
After you have installed the application on your phone, you can follow the steps below to get it up and running:
Step One:
Download and install the application on to your iOS 4.2 (or later) device.
Step Two:
Go to Settings > Mail, Contacts, Calendar
Step Three:
Click Add Account
Step Four:
Click on MobileMe
Enter your Apple ID and Password
Step Five:
Verify your account.
If your MobileMe account says 'ÄúNot Verified,'ÄĚ check your email inbox for a message from Apple. Click Verify Now and sign in with your Apple ID.
If you don't see a verification email in your inbox, select your MobileMe account and tap Resend Verification Email.
Step Six:
Go to the MobileMe option and switch on Find My Phone
When the pop-up message appears, click on Allow
Now your Find My Phone application should be up and running. If you would like to test it to ensure that everything is working accordingly, you can do one of the following:
Install the application on another device using the steps above. Then go to the Find My Phone application and locate your device
Go to the following website, login with your Apple ID and Password. Then select the device you are trying to locate and test out the options that are available.
Options that are available to you are…
GPS Location
Display message and play sound:
This option allows you to send a message to your device and play a sound with it for two minutes. This would be handy if you have lost your phone and needed to let the person who found it know how they can contact you.
Lock:
This option allows you to lock the phone with a 4 digit password. This will basically lock out a user if they do not respond to your messages or you believe that the data on your phone is too valuable for others to view.
Wipe:
Just like the name suggests. If you think the phone is gone forever, you can just completely wipe the device and restores it to its factory settings.
To download the app, click on one of the following links or use the QR code.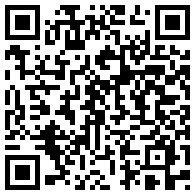 About The Author